Once BartPE is setup, it's time to make it useful. One of the most handy features I use it for (all of the time, mind you) is virus scanning. Luckily Mr. Lagerweij was kind enough to include a front-end for McAfee's easily accessible command line scanner. Download the latest SuperDAT and save to the pluginmcafeefiles directory inside of where you extracted Barts PE to. If you followed my directions in how to set up Barts PE, then it'll be the Barts PE directory.
After you've got it saved then click Start->Run and click browse. Navigate to the files directory and select the SuperDAT file. After you've selected it, inside of the text box, add -e to the end. This will tell the SuperDAT file to extract to its current location, as opposed to looking for a McAfee product to update.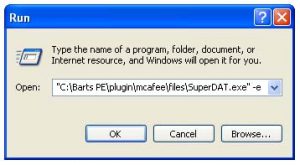 Now that you've got the files extracted you can go ahead and delete the SuperDAT file if you'd like. Open up Barts PE, select Manual Build, click next, on the following screen click next as well. With the screen after that, make sure that the location where your SP1 or greater XP copy is located is put into the Windows Installation Files path, and click next. You should now see the Barts PE Plugins page. Scroll down to the McAfee VirusScan for Win32 plugin, and click the Enable/Disable button.
Once the Enabled field shows Yes then click the Next button. Select where you want the Output directory as well as where you want the ISO file saved, click next again, and let it build. Following the build, burn the ISO image and you should be good to go. To test, boot from the CD and run the McAfee VirusScan GUI Wrapper from the menu.
I generally run it as shown below: