Arthur C. Clarke, in the year 1974, said, "One day, a computer will fit on a desk." We've come a long way since "fittable" computers like PCs and Laptops/Notebooks first came into the picture, haven't we? Who would've further predicted that in the future, we'd have pocket-sized computers that can fit in our hands like our smartphones and Raspberry Pis?
Raspberry Pi should be no stranger to you since it is one of the cheapest and popular computers that you can buy right now. You might not want to buy one if you "assume" that it sucks but, hear me out; it's gotten much better over time. In this article, we'll be looking at the Raspberry Pi 4 Model B review, the 4th generation of the boards from the Raspberry Pi foundation, and if it's enough to replace your daily driver PC.
What's The Point Of Buying A Raspberry Pi?
Raspberry Pi 4 Model B Review

Raspberry Pi 4 Model B Specs: Raspberry Pi 4B Vs Raspberry Pi 3B+
Raspberry Pi 4B Performance
Thermals

Can The Raspberry Pi 4 B Replace Your PC?
FAQs
What's The Point Of Buying A Raspberry Pi?
Raspberry Pi is a boon for DIY enthusiasts, students, and people who want to buy a computer for performing day-to-day activities, who cannot afford to buy a fully-fledged desktop computer. It is also a great device if you want to use it solely for media consumption, thanks to one of the most popular platforms, Kodi.
And that's not it. You can also immerse yourself into nostalgia by converting your Pi into a retro gaming machine using RetroPie or Lakka Linux. Overall, there's nothing you cannot do with a Raspberry Pi.
Not to mention, the things you'll learn along the way will make you feel nothing less than a rocket scientist and will definitely help you reach greater heights in your career.
Raspberry Pi 4 Model B Review
Raspberry Pi 4 Model B Specs: Raspberry Pi 4B Vs Raspberry Pi 3B+
Let's start with the I/O first, a major upgrade from the previous-gen Raspberry Pi 3 B+. Here's everything that's improved in the I/O section compared to 3 B+.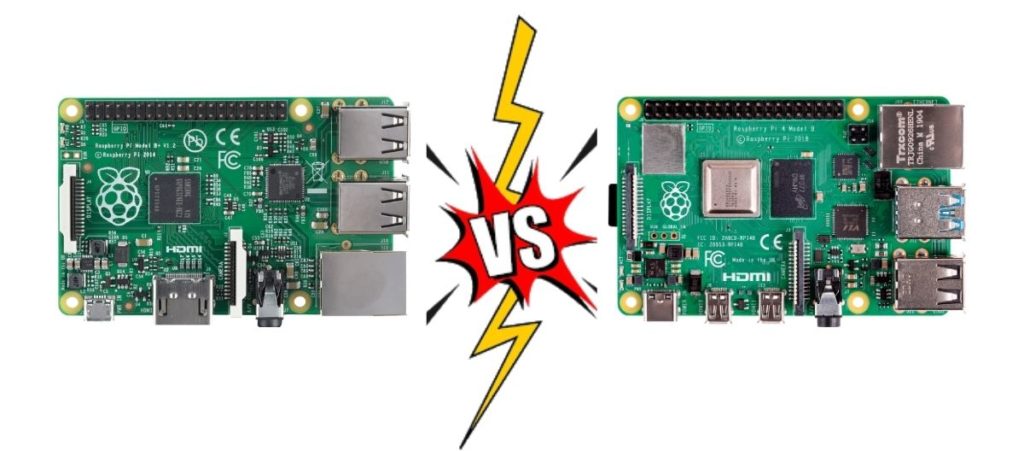 | | |
| --- | --- |
| Raspberry Pi 4 Model B | Raspberry Pi 3 Model B+ |
| Dual USB 3.0 + Two USB 2.0 ports | 4 x USB 2.0 Ports |
| A true Gigabit Ethernet Port | Gigabit Ethernet via USB 2.0 port with a maximum throughput of 300 MB/s |
| Dual 4K Micro HDMI display ports | One full-size HDMI Port (1080P 60Hz) |
| Bluetooth 5.0 | Bluetooth 4.2 |
| USB Type-C port | Micro USB port |
While we never saw (and I don't think we'll ever see) Apple transitioning to USB Type-C in iPhones due to typical "Apple reasons," on the other hand, we have a Type-C port on a personal computer that costs a mere 35 bucks. The power input via the port is 5V 3A.
One of Raspberry Pi 4B's major highlights is the dual 4K micro HDMI display ports, which I think is a phenomenal feat. However, it can only output 4K30 when two 4K monitors are connected and 4k60 when one. Overall, there are ample I/O options that make the Raspberry Pi 4 B worthy of being called a desktop computer.
Our Raspberry Pi 4 Model B 4GB kit from PiBox India that we bought via Amazon India shipped with an incompatible Type-C cable that was underpowering our Pi 4 B (Little thunder spear flashing on the top-right corner in Raspberry Pi OS). This caused the Pi to randomly shut down during work. However, the quality of other components provided in the kit, like the Ethernet cable, charger, and the boring but sturdy case, was top-notch.
Raspberry Pi 4B Performance
Performance is another area where it beats its predecessors. It's nowhere near the Intel/AMD processor territory, but the quad-core Broadcom 2711 SoC powered by ARM's powerful Cortex-A72 cores in the Raspberry Pi 4B is a great improvement from the older Broadcom 2837 used in Pi 3 B+, powered by Cortex-A53 cores.
This SoC upgrade alongside 4GB DDR4 RAM compared to 1GB DDR2 on the 3 B+ makes the Raspberry Pi 4 B a viable desktop computing device. Here's the list of Linux distros that we've tested on the Raspberry Pi.
We're not going to bore you with the benchmarks; instead, we'll be looking at the real-life performance in the following distros.
Raspbian/Raspberry Pi OS
Ubuntu – GNOME
Ubuntu MATE
Manjaro ARM Linux – XFCE Desktop environment
Vanilla Ubuntu Linux is too heavy due to GNOME. Hence, the performance and the experience were not that great. On the other hand, Ubuntu MATE, with its lightweight MATE desktop, provided a great user experience whilst not butchering the performance.
To find out the difference in both the distros' performances, we compared them in our how to install Ubuntu MATE on Raspberry Pi article so, do make sure to check it out.
Raspberry Pi OS is a very barebones OS for the Pi, and while it is suitable for desktop computing, the user experience left us with much to be desired. Manjaro XFCE, on the other hand, is a great distro for those who want to try Arch on Raspberry Pi.
Also read, How To Install Raspbian/Raspberry Pi OS Using NOOBS For The First Time
Apart from the Linux distros, we also tried Android 10 via LineageOS 17.1 and were pleasantly surprised by how well it ran. If you own a Raspberry Pi, here's how to install Android on Raspberry Pi.
Bear in mind that the performance also heavily depends on the SD card that you're using.
Thermals
The thermals were on the higher side. We tried pushing the Pi 4 B to its limits on the Raspberry Pi OS by browsing the web simultaneously on three Chromium tabs, one of which was playing a YouTube video at 1080p.
Without the fan accessory, the temperatures scorched up to almost 85℃, and the device was skipping video frames, and screen tearing was visible.
The struggle to open a few more Chromium tabs was real. The device was lagging until I opened the top portion of the official Raspberry Pi case and blew some air on top of the SoC, and the temperature cooled down a bit to 73℃, and the device was stuttery but a lot more functional again.
During this, almost 2GB of RAM out of 4GB was being used thanks to the lightweight nature of Raspberry Pi OS.
What surprised us the most is when we did the same thing but with the fan accessory connected this time at 3500 RPM (Pins 1 at 3.3v and 9 GND). The temperatures never crossed the 55℃ mark, the processor cores were running at their maximum potential (1.5 GHz), and the performance was far better.
Hence, if you're planning to buy the Raspberry Pi 4 B, make sure you buy the fan accessory too. Overall. I think there's not much the Raspberry Pi foundation could've done to keep the device cool.
At some point, you have to settle on less temperature and low performance, or high temperature and better performance, and they chose the latter.
Can The Raspberry Pi 4 B Replace Your PC?
The answer is yes and no. No, because, while the Raspberry Pi 4 B sure is powerful than its predecessors, it still lacks that extra "oomph" to get me to forget my buttery smooth PC/Laptop.
Yes, because while we take the powerful computers in our homes for granted, there are still many people who don't have a PC but want to learn how to code and build projects. The Raspberry Pi Foundation is doing a phenomenal job in empowering students and enthusiasts around the world.
Starting from as low as $35 for the 2GB RAM variant, $55 for 4GB, and $75 for 8GB, the Raspberry Pi 4 B is one of the most affordable yet powerful computers that I think every enthusiast should have. I'd suggest you get the 4GB or 8GB variants if you aim to use it as a desktop PC.
So, that was our Raspberry Pi 4 Model B review, a small but mighty computer that everyone can afford, learn, and have a lot of fun with.
Raspberry Pi 4 Model B
Summary
The Raspberry Pi, 4 Model B, is a major step up from its predecessors both in terms of performance and I/O, and we don't see why you shouldn't be buying this beast of a board if you want to build projects or use it as a desktop computer.
FAQs
Does Raspberry Pi 4B have Wi-Fi?

The Raspberry Pi 4B does have built-in Wi-Fi that supports connecting to both 2.4 GHz and 5 GHz networks. The speeds are also pretty good compared to mobile devices and laptops.

Is Raspberry Pi 4B 64-bit?

The Broadcom 2711 SoC found in the Raspberry Pi 4B is a 64-bit processor with Cortex-A72 cores.
You can install 64-Bit OSes like Ubuntu MATE, and it'd work like a charm.
Image Source: TechRepublic