As the shipment of PinePhone 'Community Edition' with Ubuntu Touch started weeks ago, PINE64 is now getting ready to take pre-order for their next Community Edition. In the latest June update blog, PINE64 announced that the next Community Edition (CE) of PinePhone will feature a full-fledged postmarketOS.
The pre-order window of postmarketOS Community Edition will open in early July for at least a month and a half. If you want postmarketOS on your PinePhone instead of Ubuntu Touch, this edition will let you skip the hassle of installing postmarketOS. So, until the postmarketOS CE arrives, let's get to know everything about it.
PinePhone postmarketOS Community Edition
Similar to UBports CE, the postmarketOS community edition is also a highly revised experimental version before its stable release. It is the successor to the PinePhone 'Braveheart' edition with a much better design, motherboard, and other bug fixes.
PinePhone Community Edition Specifications
Though PINE64 has not yet completely revealed the hardware specifications of postmarketOS Community Edition, we can expect its specs almost similar to the Ubuntu Touch CE.
However, PINE64 mentioned that they're working to ship PCB (Printed Circuit Board) version 1.2 with further tweaks in its design. They've also changed the OS brand from UBports to postmarketOS in PinePhone's caseback.
Here is the most probable hardware specifications of postmarketOS CE alike UBports:
SoC Allwinner A64 Quad Core
2GB LPDDR3 SDRAM
5.95-inch HD Display with 720×1440 resolution
Internal storage 16 GB eMMC
USB port Type C (power, data and HD digital video out)
Wi-Fi 802.11 b/g/n, LTE, Bluetooth 4.0
GNSS GPS, GPS-A, GLONASS
5MP rear camera with LED flash and 2MP front camera
Sensors — Accelerator, gyro, proximity, compass, barometer, ambient light
PinePhone With Pre-installed postmarketOS
postmarketOS is a security-oriented and lightweight Alpine Linux-based mobile operating system. It currently supports more than 200 mobile devices, including PinePhone. You can even run postmarketOS on your iPhone 7 as well.
Similar to Ubuntu Touch, postmarketOS is in a beta state, but also supports basic smartphone functionality. This includes phone calls, SMS, mobile data, Wi-Fi, and a touch-friendly user interface.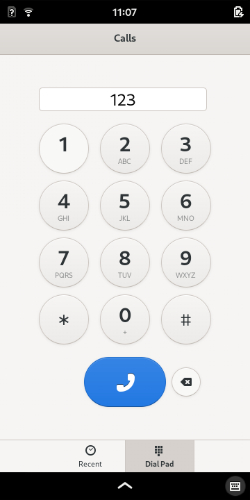 The upcoming PinePhone CE with postmarketOS will ship Phosh user interface. Phosh is a phone shell developed by Purism for its own Linux smartphone, Librem 5. It runs on top of various GNOME components to give a user experience of a modern GNOME desktop. However, you can also flash other user interfaces on your postmarketOS devices such as Plasma Mobile, Lune UI, and Xfce.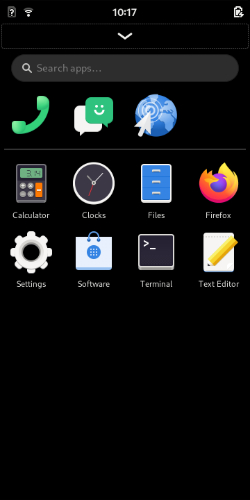 PostmarketOS CE will also offer full disk encryption along with a brand new on-device installer. In this installation method, you'll be asked for a password on the first boot to set up an encrypted installation.
Besides mobile Linux postmarketOS, you can run other Linux-based mobile operating systems on PinePhone such as Manjaro Linux and GNOME.  Even if you want dual boot postmarketOS alongside Ubuntu Touch, check out our article here about the in-development multi-bootloader, PineLoader.
How To Buy postmarketOS Community Edition?
Since the pre-order window has not opened yet, you can either bookmark this regularly updated article page or the official store page here to make yourself aware of the initial availability of postmarketOS CE.
Alike UBports CE, postmarketOS community edition of PinePhone will also cost $150 (excluding shipping and other import charges).