Name: Steve Miller I cant download anything off the internet. for example i am trying to download the expansion for world of warcraft and the computer gives me a little pop up that says that my security settings are too high to download the thing.  Same thing with Yahoo Messenger.  I have deleted my security program and even payed online for some guys to tell me what to do.  Still no help.  I have enabled automatic prompting and allowed for downloads and everything.   I even shut off my firewall to see if that would work but still nothing.  Please help. First off, it'd be helpful to know what browser you're using. This is probably something as simple as turning down the security settings in Internet Explorer, which is what I'll assume you're using. To begin, load Internet Explorer. Click Tools->Internet Options->Security once on that page, you'll need to go through each of the options Internet, Local Intranet, Trusted sites, and Restricted sites and reset them to Default Level.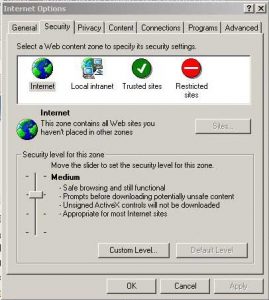 You will then want to click Apply. In order to ensure that IE is allowing downloads, then click on the Internet icon and then Custom Level. Scroll down a bit in the Zone Settings dialog and make sure that File Download is set to Enable.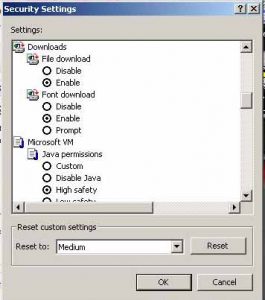 Click OK once you've ensured that File Downloads are enabled. You'll also want to double-check the Trusted sites and Restricted sites lists to make sure there aren't any sites in either of them that you don't want to be there. If for some reason that doesn't work, you can always download FireFox from a different computer, copy it onto a USB drive, and then install it on your current system. You may also want to scan for viruses to make sure that some malware isn't screwing with your settings.