Generally speaking, nVidia doesn't have many issues regarding its drivers. Despite their excellent track record, however, they are not perfect. An issue I ran into recently was the HDMI audio output not working on a GeForce 9200M GPU [105M chipset] being output to an older Philips TV. This is apparently a common compatibility issue with Philips televisions that are over a few years old.
After plugging the HDMI cable into the laptop [in this case an older HP DV4T-1200SE] and the TV the video would display as expected, but it was not possible to get the sound to work – even when trying to set the Philips TV as the default audio-out device manually. The reason for this is that the nVidia HDMI Output was showing as "Not plugged in", despite it very obviously being connected.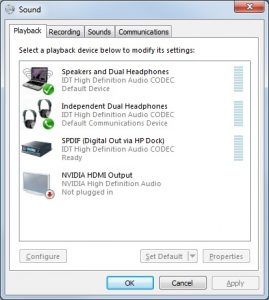 Fortunately, the fix for the HDMI audio out problem is fairly easy!
First, you will want to open up the nVidia Control Panel. This usually can be accessed by simply right-clicking on the desktop and selecting it; but if that option is not available then it can be opened via the Windows control panel.
Once the control panel is open you need to select Set up digital audio under the Display category. Then on the right-hand section of the window there will be a section labled Verify displays that will appear as audio devices in the Windows Sound settings. Below the graphics chipset you'll see Turn off audio as the current HDMI selection. Click on that and change it to Philips, or whatever your TV happens to be labled as in the drop-down list.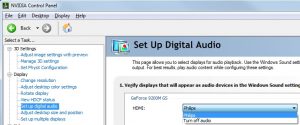 Now that the audio output is enabled, close out of the nVidia Control Panel and open up the Windows Sound settings. Once that opens, right-click on the nVidia HDMI Out audio adapter and select Set as Default Device.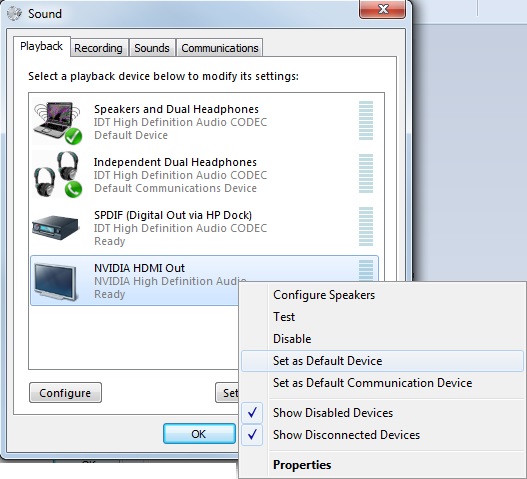 Now that the HDMI audio output to your TV is enabled and selected as the default device you're good to go! Do keep in mind that if you currently have an application running that is playing some audio it may be necessary to close and re-open it before it starts to play using your TV's speakers.