Google's Featured Snippets are a great addition to the search engine which displays information there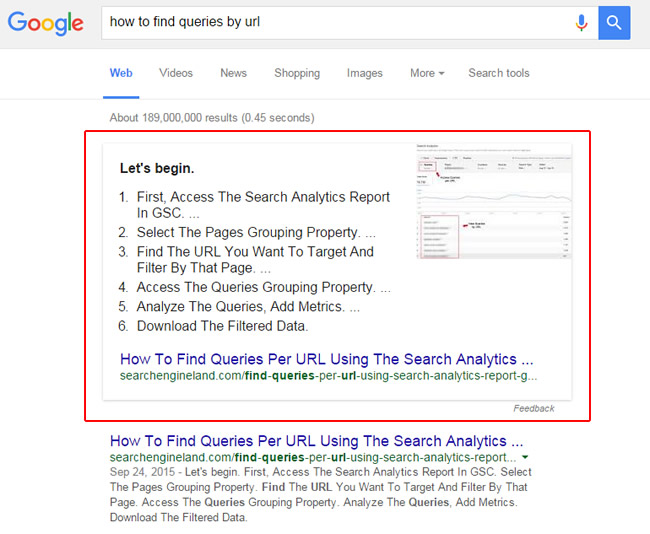 and then, on the search results page, which works to address what web users search. From doing this, web users find the answers/solutions to what they searched for much quicker than before.
For website owners and bloggers, features snippets are great because it propels your article automatically to the #1 spot on search results. For this reason, featured snippets are something that bloggers should strive to achieve.
However, how do you go about getting onto featured snippets? In a simple answer, there is no specific way that Google has outlined as to how to get onto featured snippets – they use an algorithm which scans content and automatically determines if there is content that is worthy of a featured snippet or not. Saying this, from owning a website that has quite a few articles featuring as featured snippets, there are a few tips that I will share that will help you get your articles onto featured snippets too.
How to get onto Google featured snippets:
Use headings appropriately
Address the answers to possible questions
Use bullet points
Write good quality content
#1 Use Headings Appropriately
Headings help crawl robots navigate through your content and also help Google understand what your content is about and what separated sections are about. For this reason, use headings as much as possible, making sure to use different weighted headings (such as sub-headings, minor headings and more).
From doing this will make every paragraph have a heading that explains exactly what the paragraph is about. This will help Google understand what each paragraph is about, making your content appear more suited to being a featured snippet.
#2 Address the Answers to Possible Questions
Featured snippets appear to be more useful when directly answering a question that has been asked by as web user in Google search. For this reason, no matter what your article is about, try to answer questions throughout your content. With the likes of Google Home and Google's artificial intelligence, Google Assistant, capitalising on answering questions using featured snippets, it is a no brainer to try and answer as many questions as you can throughout your content.
#3 Use Bullet Points
For search queries such as recipes or a ranking system, it is vital to getting onto featured snippets to use bullet points, either normal bullet points or numbered. Featured snippets can adopt bullet points. For this reason, I find it quite beneficial to outline the headings in bullet points for certain types of articles. Although I would not normally do such a technique for this example, I have done so anywayat the top of this article, below the opening paragraphs, to give you an idea as to what it would look like for an article.
#4 Write Good Quality Content
Although obvious, it really does make a huge difference having high quality content that will be useful to web users. Since Google scans through the whole article for featured snippets, the featured snippet could come from any point in your article: not just at the start like some people think. Therefore, if you simply just make sure your content is useful and of a high quality, it will also help to increase the chances of getting featured.