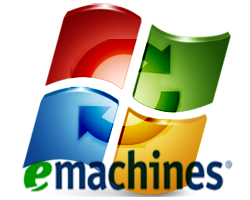 From: Betty
Subject: Windows 7 Recovery – eMachines W6409
A friend of my daughters accidentally erased my Windows 7 from my computer and I don't have the disc for it! How can I recover it from my computer memory? Shouldn't it be on my hard drive? Even so, I'm not too well computer savvy and don't know how to retrieve it! How can I restore Windows 7 on my eMachine?
It's actually quite easy to get to the recovery partition on most eMachines. Your W6409 should be no different, according to the manual.
HOW TO RESTORE WINDOWS 7 ON AN eMachine
STEP 1:
Power on or reboot your computer. Press F11 when you see the prompt text on the bottom of of the screen when it gets to the POST screen. (Or simply reboot the machine and keep pressing F11 repeatedly until the Windows 7 system restore process starts)

STEP 2:
Choose the type of system restore you'd like to perform. The choices include –
Non-Destructive System Restore – This recovers the operating system, all programs, and drivers that were installed by default. Any files currently on the computer should not be damaged by this process. (Meaning that you get to keep all of your documents, pictures, videos, etc when using this option.
Full System Restore (Destructive) – Formats the hard drive and restores Windows 7 and all of the default system software/drivers. All data on the hard drive will be lost, so be sure to back everything that you want to keep up first!
Full System Restore (With Backup [Advanced Option]) – Moves the contents of the hard drive to the C:My Backup folder and installs a new copy of Windows. All of your existing data will be saved using this option, but any non-factory standard programs will need to be reinstalled. At least 4GB of hard drive space is required for this.
STEP 3:
Follow the on-screen instructions to complete the system restore process.
Betty, in your case you'll likely need to do the destructive full system restore because your OS is hosed and you can't boot to it in order to backup your files. However, do keep in mind that depending on what your daughter's friend did to erase the OS there may actually still be files that you can recover stored on your hard drive. In order to get to them though you'll need to either yank the hard drive out and hook it up to another machine, or boot to a Bart PE disc and copy the files to a flash drive. You could also try the non-destructive full system restore as well, but I cannot guarantee how well that will work.
For reference, below are excerpts from the eMachines W6409 Manual .PDF I linked to above. The following two give the instructions for using the hard drive recovery partition.
And finally, how to use the Windows 7 eMachine recovery discs –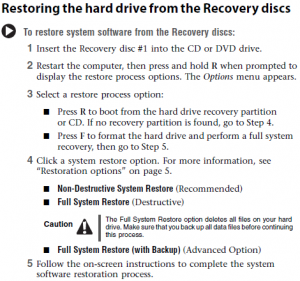 Does anybody else out there have an eMachines computer and have had to use the eMachine recovery process? Tell us about your experience with it!